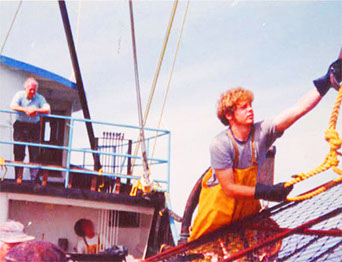 This photo of me (the guy taking the picking hook out of the pot bridle) was taken during my second season fishing crab in the Bering Sea and the first year on the Paragon II. The boat was new and I was the engineer at the time. The old guy on the top deck is my dad (who passed away March 8, 2016 at the age of 98).
This photo was taken a few years later when I was captain of the Paragon II. My wife and son are in the wheelhouse with me.
My fishing career ended in 1998 but I remain involved in the fishing industry.
I started a working as a Marine Surveyor in 1995 while still fishing. After experiencing some heart issues (atrial fibrillation - now well controlled) I was able to launch into the business full time in 1998.
I was Vice President of the crab fishermen's collective bargaining association (called the Alaska Marketing Association) in 1993 and became Executive Director from 1994 to 2005 when crab rationalization made the organization unnecessary.
Currently I am an active marine surveyor with my own company called Fishermen's Maritime Services. I am also Executive Director of the Bering Sea Arbitration Organization (since 2005) and Executive Director of Inter-Cooperative Exchange (ICE) since 2009. The largest cooperative of crab fishermen, ICE member vessels harvest around 70% of the Bering Sea crab quotas.
I also serve as Chairman of the Shellfish Committee for the Alaska Seafood Marketing Institute and have served for many years as a member of a Federal Advisory Committee dealing with fishing vessel safety issues.
In my spare time I collect rocks and make jewelry (www.crystalearthart.com).
I live in Lind, WA with my wife of almost 4 decades, in an old Methodist Church we fashioned into a retreat center for quilters (www.quiltingretreat.info).
Our six children are all grown up and gone. One is currently fishing on a Bering Sea crab boat. We have ten grandchildren.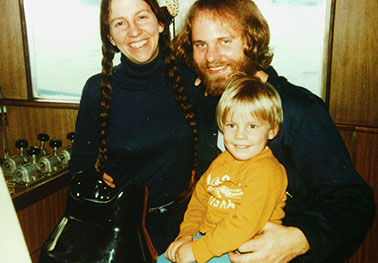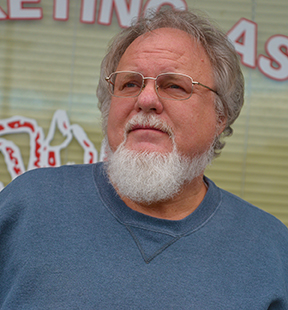 Copyright 2016 Masende, LLC All Rights Reserved.